The VR Girl - Visual Novel
A downloadable VRGIRL-Visual Novel for Windows
This is a visual novel for windows only.
Welcome to the VR girl page. Here is where you can find out about my visual novel and download is at the bottom of the page. Thank you.
Story:
The VR Girl is a sci-fi/horror tale about an A.I that comes to life in a machine after a death in the family. It is up to a handful of heroes to unravel this tale and hopefully not fall victim to their desires or the whims of the evil A.I that is out to get them. All is not what it seems however with an uncertain feeling following Tom around ever since his mums death. There is more to his mothers death than he realises and through working on a project that seemed harmless will do more harm than good if he is not careful....
The Characters:
Tom
Tom is one of three main characters in the tale. He is calm and thoughtful he is also in love and is scared to commit because she travels a lot. After a accident he lost his mother a few years ago. It still haunts him to his day. Ever since then his dad has kept his distance and has been hiding something. Tom wants to find out what while also making him proud by working on a state of the art Virtual Reality Construct who is a female companion. He has been childhood best friends with Theodore they are like brothers. They always get into trouble. Without Theodore Tom would never be the same.
Theodore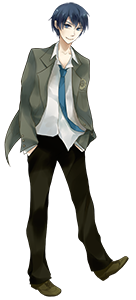 Theodore is the second main character of the story. He is best friends with Tom. He is brash and he does not always think things through. He loves games and music he also has an older brother Ryan. He is a passionate man and often is very forward with girls, but only the ones he likes!. He can be arrogant sometimes but like Tom he is a kind soul. He too has been working on the VR girl and he has done something that may land him and Tom into a lot of trouble.
Ruby

Ruby is the third main character in the story. You could consider her the main hero of the story if you wanted too. She is open and honest and loves anything anime, gaming. She has been in a relationship for a long time but often has to break up due to travelling and not being at home. She is a martial artist and is a black belt in many disciplines. She has a kind heart and a great sense of humour, She hates stuck up people and will protect those she cares about fiercely. Can she protect everyone she cares about though?.
There are other characters in the story but you will find out more when you play!

Sprites used:

The Sprites that I have used are community free to use sprites in projects and credit will be given in the credits upon completion.

Age rating:

This game is intended for people aged 15+

(It does contain elements of gore, swearing suggestive themes and a few surprises!)
Game Length:

Current Playtime with finding all the paths and endings in the current build is 2 - 5 hours depending on your reading speed. (Maybe quicker if you are a fast reader)
Current Version is 3.0

This game is constantly being improved, please feel free to leave as much feedback as possible. Good or bad.
Updates:

Please stay upto date with all my devlog posts for all the latest build news and changes! Also follow me on twitter as well for constant live updates as well.
Chapter Details:

Chapters 1 & 2 are now complete - but are constantly being improved.

Chapter 3 is in in development
Chapter 4 - Will be coming after chapter 3 is done.
Chapter 5 - TBA
Looking for help:

On a side note I am looking for a Voice actor male and female to say a few lines for the project. I cant pay you but I can promote you and give you credit and a shout out on my twitter and YouTube Channel. If you can help me or know someone who might be able to help me then please contact me on my twitter Via DM.
Cheers.
Enjoy the game!
Soundtrack Samples
| | |
| --- | --- |
| Status | On hold |
| Platforms | Windows |
| Author | Thefreedyshow |
| Genre | Visual Novel, Adventure |
| Made with | Ren'Py |
| Tags | 2D, Anime, Cute, Horror, relationship, Sci-fi, Story Rich, strange, suspense |
| Asset license | Creative Commons Attribution_NonCommercial v4.0 International |
| Average session | A few hours |
| Languages | English |
| Inputs | Keyboard, Mouse |
| Accessibility | Subtitles, One button |
Install instructions
You will need 7zip or winzip to unzip the file. Just unzip anywhere you want and run the .exe in the folder.